By rwimberly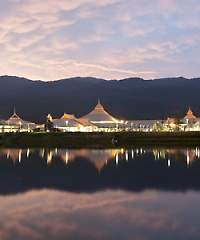 The Thailand Convention and Exhibition Bureau introduced a new global marketing campaign "Thailand Connect", which aims to expand the country's MICE industry.
The bureau hopes the industry will generate revenues of approximately US$3.2 billion and attract 987,000 overseas MICE travellers in 2014.
TCEB's new campaign focuses on three key factors in Thailand: a diversity of destinations, unrivalled business opportunities and the high quality of Thailand's MICE professionals, according to TCEB officials.
The campaign also offers a number of market-promotion packages to incentivise MICE event organisers and travellers.
For international conferences, TCEB will offer promotional support for events from the ASEAN+6 countries – which includes the 10 ASEAN nations, as well as South Korea, Japan, New Zealand, Australia, India and Greater China (the mainland, Taiwan, Hong Kong and Macau).
For international exhibitions, TCEB will support business-matching activities for visiting trade groups of 15 or more delegates from the ASEAN+6 countries and BIMSTEC (Bay of Bengal Initiative for Multi-Sectoral Technical and Economic Cooperation) countries – comprising of Bangladesh, India, Myanmar, Sri Lanka, Bhutan, Nepal and Thailand.
In addition, TCEB forecasts revenue from MICE events in Chiang Mai to increase by 10 percent to US$135 million and the number of MICE travellers to rise by 5 percent to 72,424 this year.
In 2012, Chiang Mai Province held 490 MICE events, of which 80 percent were international. The US$80 million Chiang Mai International Convention and Exhibition Center recently opened in May and is capable of housing 476 standard-sized exhibition booths.
0 responses to 'Thailand Convention & Visitors Bureau Unveils New Targeted Marketing Campaign'
Source: Trade Shows