By rwimberly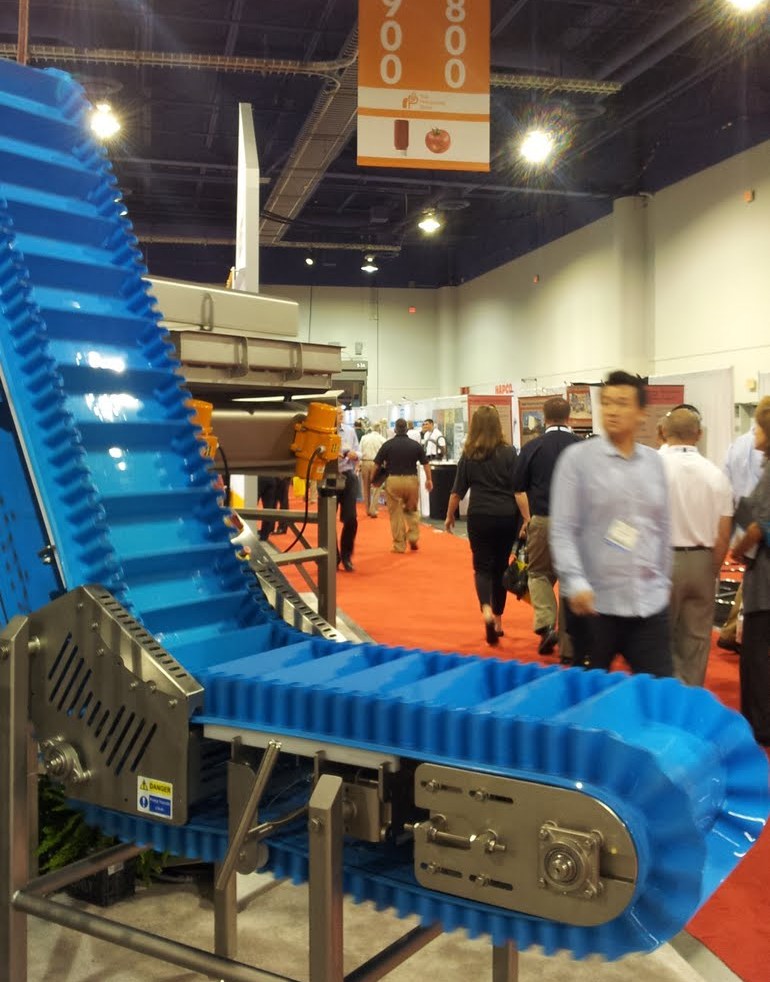 Strong growth in the packaging industry and the need for innovative and cost-saving solutions translated into the largest show yet for PMMI's biennial PACK EXPO Las Vegas that took place Sept. 23-25 at the Las Vegas Convention Center.
"It's a record Las Vegas year for us," said Julie Ackerman, senior director of public relations and communications for PMMI. The show spanned more than 740,000 square feet and attracted 1,700-plus exhibitors and 28,000 attendees. The previous PACK EXPO Las Vegas came in at 700,000 sq. ft., 1,600 exhibitors and 26,000 attendees.
The Processing Zone in the South Hall has grown more than 40 percent since its inception in 2010 and was sold out for this year's event. "It makes sense at this show given that we want to offer total systems solutions," Ackerman said. "To have that processing element is great for the attendees."
This year all education was moved to the showfloor. PMMI's sessions took place at three Innovation Stages, two of which were new this year. Exhibitors also were encouraged to offer in-booth education. "We've had great response," Ackerman said. "For many sessions there was standing-room only."
The association also launched a dedicated education app that features training and certification year round as well as offers a job board.
To represent various verticals, the show offered the Confectionary Pavilion, the Baking-Snack Break Lounge, the RX Lounge and the Beverage Cooler Lounge. "Many of our exhibitors have solutions for a number of vertical markets so they don't want to pigeonhole themselves into one neighborhood," Ackerman said. At the lounges, attendees could connect with subject-matter experts and get help finding the right products in their market.
PMMI continues to grow its PACK EXPO show family. The new Pharma Expo in partnership with the International Society of Pharmaceutical Engineering (ISPE) will be collocated with PACK EXPO in Chicago Nov. 2-5, 2014, and is projected to span over 200,000 sq. ft. and bring an additional 20,000 attendees.
PACK EXPO East also will launch Feb. 2-4, 2015, in Philadelphia.
Exhibitors in the Processing Zone area were doing brisk business even on the third day. John Schlapinski, with Douglas Machines Corp. that produces washers and sanitizing systems, said his company has returned as an exhibitor this year because of the strong growth in processing.
"Some of the large companies didn't want to buy new equipment during the recession but it has been up for about a year now," Schlapinski said. "Sanitation is high on people's list. Things are going great."
Attendee Bret Pittsinger, owner of Van Doren Sales Inc., said he was looking for new packaging solutions for his Washington-based fresh fruit handling company.
"The economy is trending up so we're open to new products as long as they save customer money and allow them to reduce labor," he said. "With Obamacare, there's a new push for labor-saving devices, so you'll see a lot of robotics here. I found at least five products here that I will be able to use in my product line."
0 responses to 'PMMI's PACK EXPO Las Vegas Breaks Records'
Source: Trade Shows