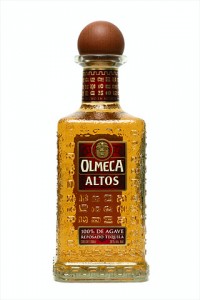 NEW YORK, Oct. 24, 2013 /PRNewswire/ — Unlocking a new option in the super-premium tequila category, Olmeca Altos announces the national launch of 100% Agave Tequila. Olmeca Altos Tequila offers the smooth taste and hand-crafted quality that today's bartenders and trend-conscious consumers are seeking in premium cocktails, but without the premium price. The secret to the tequila lies in the expertise of two of the UK's most prominent mixologists, Henry Besant and Dre Massoalongside Master Distiller Jesus Hernandez. Together they created an accessible, mixable 100% agave tequila distinguishable from other spirits in the category.
"We're excited because Olmeca Altos is truly a product that is on-trend with the tastes of today's consumers looking for authentic tequila," said Clare Kanter, Vice President, White Spirits, Pernod Ricard USA. "The tequila was created by bartenders for bartenders who understand the need for a superior craft-quality product that's accessible, which is why the traditional methods for creating Olmeca Altos are the core of our brand."
The Secret Ingredients
The secret to a great night lies in selecting the perfect drink. Today's trendsetters now more than ever are looking for unique cocktail creations, rich flavors and twists on traditional drinks. Olmeca Altos is the choice for these consumers unlocking the perfect flavor for any occasion. The three ingredients to Olmeca Altos' winning tequila combination lie in the brand's:
Hand-Crafted Quality—Olmeca Altos is different from other super-premium options because of its traditional process using the centuries old Tahona Method to create a tequila of unmatched quality. Master Distiller Jesus Hernandez is responsible for supervising production from the initial harvest of the agave plants to the end result in the bottle.
Smooth Taste—The agave for Olmeca Altos is handpicked at peak ripeness, and then slow cooked at low-temperatures to seal in the plant's sweet, honey-like flavors. The cooked agave "juice" is then extracted from the plant by the 500-year-old Tahona production process in which a giant volcanic millstone is used to crush the cooked Agave pinas and expose the juice and fibre from the plant, which is then added to Olmeca Altos' fermentation and distillation process to deliver the rich, sweet, citric taste and aroma.
Affordable Price—To get authentic quality, consumers expect to pay a higher price. But Olmeca Altos is bringing consumers a premium, quality product they can drink regularly, making it a go-to choice on its own or in a range of signature tequila cocktails and margaritas.
Olmeca Altos is available nationwide in Plata or Reposado. Olmeca Altos is 40% alc/vol (80 proof) and retails for a suggested price of $24.99 for 750 mL.
To mix up premium cocktails at home, try these Olmeca Altos signature margarita recipes:
Tommy's Margarita
2 parts Olmeca Altos Plata
1 part fresh squeezed lime juice