By rwimberly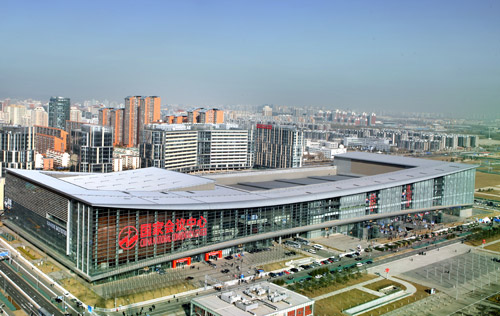 Messe Duesseldorf Shanghai (MDS) and the China Energy Storage Alliance (CNESA) recently announced the joint organization of a new energy storage industry event – Energy Storage China. The event will be held from June 23 – 24, 2014 at the China National Convention Center (CNCC) in Beijing.The German trade fair company Messe Düsseldorf, renowned for its energy storage event in Düsseldorf, Germany, is the partner of Energy Storage China 2014.
Energy Storage China also will be supported by the following partners: the German Energy Storage Association (BVES), the California Energy Storage Alliance (CESA) and the Indian Energy Storage Alliance (IESA).
Energy Storage China 2014 will be geared towards policy and decision makers, experts and manufacturers in the renewable energy and energy storage industry in China. It will also serve as a deal-making and business development platform.
Hans Werner Reinhard, deputy managing director of Messe Duesseldorf and chairman of Messe Düsseldorf China Ltd., said he is excited about this new energy storage event in the Chinese market.
"After the successful preview of Energy Storage China at the China International Technology Fair (Shanghai) organized by the Chinese government this May, Energy Storage China is now on a smooth path in partnership with the China Energy Storage Alliance," he added. "It is a big step ahead to achieve the global energy storage events concept, synchronizing the energy storage business worldwide. Efficient storage technologies have a key function in enabling a sustainable energy supply based on renewable energies. This awareness forms the basis of Energy Storage Duesseldorf (Germany) and it also applies of course to China, adapted to the conditions in that country."
Energy Storage China 2014 is officially part of Messe Duesseldorf's World of Energy Storage event group, including Energy Storage Europe to take place from March 25-27, 2014, in Duesseldorf/Germany; Energy Storage North America to be held Sept. 30 – Oct. 2, 2014 in the U.S.; and Energy Storage India, scheduled Dec. 4-6 this year in Mumbai.
"With the expertise in trade fairs and conferences from Messe Duesseldorf Shanghai and the advanced industrial resources and market awareness from the China Energy Storage Alliance, we are confident that we will provide a top-class networking event to synchronize energy storage business in China," said Axel Bartkus, general manager of Messe Duesseldorf Shanghai.
He added, "It will have a global reach, focusing on applications, solutions and projects for renewable energy integration, power transmission and distribution, smart grid and decentralized energy, cost efficiency and bankability, etc. Energy Storage China will be an ideal meeting place for face-to-face interaction and communication for industry professionals from home and abroad to explore new business opportunities in China."
Johnson Yu, chairman of the China Energy Storage Alliance, added: "Being associated with Messe Duesseldorf and Messe Duesseldorf Shanghai is a win-win situation. Not only for opening up the Chinese market, but also for attracting international player and introducing them to all aspects of the Chinese market including government, the electric power system, the grid companies, potential partners and even financial resources. It is our strategy to step up efforts in establishing an internationally renowned event, as well as Messe Duesseldorf's proactive stance in developing their business in China. Energy Storage China 2014 will be China's best platform for international communication and cooperation within the energy storage industry."
0 responses to 'Messe Duesseldorf Shanghai, China Energy Storage Alliance Will Launch Energy Storage China'
Source: Trade Shows