By rwimberly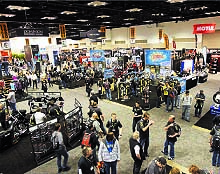 In response to customer feedback, Advanstar Communications' Dealernews International Powersports Dealer Expo will move next year from its long-time home in Indianapolis to Chicago's McCormick Place for a three-year commitment.
Winning the show was a result of a new committee, the Trade Show Promotion Fund committee, which was formed following labor reforms that took place at McCormick.
The committee is comprised of four representatives of Carpenters Local 10 Union and four representatives from the Mayor Rahm Emmanuel's office, who work with Choose Chicago to identify new shows for the city.
"We are excited to welcome Dealer Expo to their new home in Chicago," Chicago Mayor Emanuel said.
He added, "This is a perfect example of the positive economic impact that can come to the entire city when we work together."
Kevin McLaughlin, business representative for Carpenters Local 10, added, "This not only creates jobs for Chicago workers at a time when the trade show business is historically slow, but also builds revenue for Chicago businesses."
The move to Chicago may be the boost that Dealernews International Powersports Dealer Expo needs.
This year's show in February at the Indiana Convention Center & Lucas Oil Stadium had a 30-percent drop in attendance to 10,904, compared with last year's show, and a 27-percent drop from the 2011 event.
Excluding exhibitor personnel, verified attendees totaled 5,452, with approximately 3,700 verified as traditional franchised and independent retailer buyers.
The overall industry has seen a 36-percent decrease in the number of dealers operating in the U.S. since 2009.
In 2014, several enhancements will be made to the show when it moves to its new home:
A dedicated focus on new products – with a showcase, a Web app, demos and a show catalog, which will provide a comprehensive annual review of the industry's new product offerings;
A bigger venue – in the nation's third-largest city, an international destination hub that also is within easy reach of more than 80 percent of U.S. powersports retailers;
Affordability – for attendees and exhibitors, with a wide range of hotel options and solid, practical exhibit packages;
An educational symposium – offering solutions delivered by professional trainers from several organizations; and
Late-year timing – aligned with the dealers' need to make prime buying decisions in the fourth quarter for the coming season.
The blueprint for the 2014 Dealer Expo was developed after months of research, polling and one-to-one conversations with retailers, manufacturers and distributors, according to show organizers.
"We wanted everyone's involvement on how to evolve Dealer Expo from your typical trade show to an all-new, must-attend industry event," said Chris DeMoulin, executive vice president of Advanstar Communications.
To grow as an event and to fuel sales, industry segments agreed the show had to move to a bigger market and realign with the buying cycle of the dealer network.
Two-thirds of respondents supported a move to a bigger market and realigning the show dates to coincide with the gradual shift in the primary buying season for most powersports retailers to late in the fourth quarter.
The Chicago area is also home to hundreds of powersports dealerships, as well as dozens of manufacturers, and is the third-largest U.S. metropolitan market for on-highway motorcycle registrations, according to Polk Research, according to show organizers.
"We applaud the combined efforts of Chicago's unmatched labor force, McCormick Place and the city of Chicago for working together to ensure we could welcome this new customer to Chicago," said Don Welsh, Choose Chicago president and CEO.
He added, "As a result of permanent reforms at McCormick Place, Chicago is now the most customer-friendly meetings and convention destination in the country. We look forward to a productive partnership with Dealer Expo."
0 responses to 'Dealernews International Powersports Dealer Expo Moving from Indianapolis to Chicago in 2014′
Source: Trade Shows